If you are looking for any size brewhouse for sale, YoLong Brewtech is the best place to start.
A brewhouse is a term used to describe a setup that brews beer and where beer can be produced (home brewing, commercial craft beer brewing, and industrial scale beer production). Brewhouse systems range in size from a 5 barrel brewing system all the way up to a 50 barrel brewing system. 
Usually, brewhouse equipment is combined with specific vessels inside a working platform. The brewer operates the brewhouse through the control panel.
The size and scale of your brewhouse operation depends on your production needs. The brewhouse you order from YoLong will be fully customized for your individual requirements. Our brewhouse-buying customers range from beer hobbyists wanting a home brewing system that will fit into their garage through to clients needing a full-scale turnkey brewery system. 
If you wish to start off small, a 5 bbl brewhouse would be adequate. If you think that 5bbl brewing equipment might not produce a big enough volume of beer, finding a 15 bbl brewhouse for sale might be more suitable. 
At YoLong, we will work with you to create the perfect personalized brewhouse system solution that is based on your specific and unique requirements.
START YOUR BEER BREWERY JOURNEY TODAY
How much does it cost to start a brewery?
Factors Affecting Brewery Costs
Before we dive into the different brewery sizes and capacities, it's important to consider the various factors that can affect the cost of starting a brewery.
Brewery Size & Capacity
The size and capacity of your brewery is perhaps the most significant factor when it comes to cost. The larger the brewery, the more equipment, ingredients, and labor you'll need. A small, 5 bbl brewing system will be significantly cheaper than a 30 bbl brewhouse.
Location
The location of your brewery will also affect the cost. Rent, utilities, and taxes can vary significantly from state to state, and even from city to city. A brewery located in a high-cost area like New York City will have higher overheads than one in a smaller, more affordable town.
Equipment
Brewing equipment is a significant expense when starting a brewery. You'll need kettles, fermenters, cooling systems, and more. The cost of equipment will vary depending on the size and complexity of your brewery, as well as the level of automation you choose.
Licenses & Permits
Before you can start brewing, you'll need to obtain various licenses and permits from your state and local government. These can include a brewer's license, federal and state tax IDs, and more. The cost of licenses and permits can vary, but you should budget a few thousand dollars for this.
Labor
Finally, you'll need to consider the cost of labor. Brewing beer is a labor-intensive process, and you'll need to hire experienced brewers, as well as packaging and sales staff. The cost of labor will depend on your location, but you should budget around $50,000 per employee per year.
Brewery Size & Capacity
As we've already mentioned, the size and capacity of your brewery is one of the most important factors when it comes to cost. There are several different options available, ranging from a small 5 bbl brewing system to a large 30 bbl brewhouse.
5 bbl Brewing System
A 5 bbl brewing system is a popular choice for small breweries and brewpubs. This size is suitable for producing around 500 barrels of beer per year. A 5 bbl system typically includes a hot liquor tank, mash tun, brew kettle, and fermenters. The cost of a 5 bbl brewing system will vary depending on the level of automation, but you should expect to pay between $50,000 and $100,000.
15 Barrel Brewing System
A 15 barrel brewing system is a mid-sized option that's suitable for producing around 1,500 barrels of beer per year. This size is popular among small to medium-sized breweries that are looking to expand their production. A 15 bbl system typically includes a hot liquor tank, mash tun, brew kettle, and fermenters. The cost of a 15 bbl brewing system will vary depending on the level of automation, but you should expect to pay between $150,000 and $250,000.
20 bbl and 30 bbl Brewhouses
If you're looking to produce a large volume of beer, a 20 bbl or 30 bbl brewhouse might be more suitable. These sizes are popular among regional breweries that distribute their beer to a wider area. A 20 bbl or 30 bbl brewhouse typically includes a hot liquor tank, mash tun, brew kettle, fermenters, and bright tanks. The cost of a 20 bbl or 30 bbl brewhouse will vary depending on the level of automation, but you should expect to pay between $500,000 and $1,000,000.
At YoLong, we build each brewhouse on a case by case basis. We can assist you in setting up a brewery of any size, from a 5 bbl brewing system to a 30 bbl brewhouse. The size and capacity of the brewhouse will depend on your production goals, budget, and available space.
Use the tips below to choose your own range of brewing equipment.
HOW TO CALCULATE THE BREWHOUSE EQUIPMENT SIZE?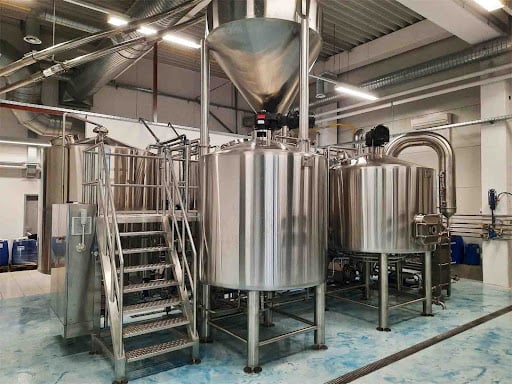 20HL 3V brewhouse
Are you planning to open your own brewery or expand your current brewing facility? One of the most critical decisions you will make is determining the size of your brewhouse equipment. But how do you calculate the size of your brewhouse? YoLong's technical engineers will help you confirm the scale of the facility, which then determines how your customized brewhouse will be designed and installed for maximum efficiency and output.
Understanding the Terminology
Before we dive into the details, let's clarify some brewing terminology that you will encounter during this process:
Beer Barrel – BBL
Gallon – GAL
Hectoliter – HL
1 BBL is equal to 31 GAL, and 1 HL is equal to 0.85 BBL.
Determining the Production Capacity
The capacity of the brewhouse equipment is dependent on the amount of beer you want to produce, which is also known as the production capacity. The maximum annual production capacity is determined by how often you plan to brew in a given week.
A nano/craft brewery or brewpub system typically ranges between 5 BBL – 15 BBL, which produces between 500 – 3,000 barrels per calendar year.
On a larger scale, a full production brewery system would be 15 BBL or greater, with the ability to produce upwards of 3,000 barrels per year.
Calculating the Annual Production
To calculate the annual production, you will need to use the following formula:
(brewhouse size) x (number of brews per week) x (approx 50 weeks per year) = Annual Production
For example:
A 5 BBL system x 2 brews a week x 50 weeks = 500 BBL annually
A 5 BBL system x 3 brews a week x 50 weeks = 750 BBL annually
Factors Affecting Brewhouse Equipment Size
Several factors affect the size of the brewhouse equipment you will need. These include:
Space and Layout
The space and layout of your brewery will determine the size and shape of the brewhouse equipment. If you have limited space, you may need to consider smaller equipment or a more efficient layout to maximize your brewing capacity.
Budget
Your budget will also determine the size of your brewhouse equipment. Larger equipment will cost more than smaller equipment, so you need to balance your budget with your production capacity requirements.
Brewing Frequency
Your brewing frequency will determine the size of your brewhouse equipment. If you plan to brew multiple times a day, you will need larger equipment to meet your production goals.
Future Growth Plans
It is important to consider your future growth plans when determining the size of your brewhouse equipment. You may want to invest in larger equipment than your current production capacity requires, to avoid the need for future upgrades and expansions.
In Conclusion, Determining the size of your brewhouse equipment is a critical decision for any brewery owner. By understanding the terminology and factors affecting the equipment size, you can make an informed decision that maximizes your brewing efficiency and production capacity.
WHAT SHOULD INCLUDED IN YOUR BREWHOUSE EQUIPMENT LIST?
We can divide brewhouse equipment into several types. One of the methods is to count the number of vessels in the brewhouse. For example, 2-vessel brewhouse equipment includes a Mash Lauter tun and a Kettle whirlpool tun.
The brewhouse can be assembled with four vessels, Mash tun, Lauter tun, Kettle tun, Whirlpool tun. So for a 3-vessel brewhouse, there are various combinations.
For some large scale microbreweries, extra vessels are used in the brewhouse.
A 5-vessel brewhouse would have a designated Mash Mixer, Lauter Tun, Holding Kettle, Boil Kettle, and a Whirlpool. Each of these designated vessels serves a particular purpose. With these extra tanks, you would work at a higher efficiency and volume output.
Finally, you can choose a brewhouse according to your production capacity and budget. Listed below are several different configurations of brewhouses based on the number of vessels:
2-Vessel Brewhouses

Mash/Lauter Tun/Hot Liquor Tank Combination Vessel + Brew Kettle/Whirlpool

Mash/Lauter Tun + Brew Kettle/Whirlpool

3-Vessel Brewhouses

Mash/Lauter Tun/Hot Liquor Tank Combination Vessel + Brew Kettle + Whirlpool

Mash/Lauter Tun + Brew Kettle + Whirlpool

Mash Mixer + Lauter Tun + Brew Kettle/Whirlpool

4-Vessel Brewhouses

Mash Mixer + Lauter Tun + Brew Kettle + Whirlpool

5-Vessel Brewhouses

Mash Mixer + Lauter Tun + Holding Kettle + Brew Kettle + Whirlpool
EXAMPLES OF COMPLETE 5-30BBL BREWING EQUIPMENT
Besides the brew vessels, there are several items below in the brewhouse. These are also very important parts and decide the quality/user experience.
Stainless steel working platform with handrail: The working platform is a stainless steel platform with a handrail that provides a safe and stable working area for the brewers. It is essential to have a high-quality platform that is durable and easy to clean.
Pipes and kind of valves: Pipes and valves are critical components of the brewhouse equipment. They are used to transport liquids from one place to another, control the flow of liquids, and regulate temperature. Pipes and valves should be made of high-quality stainless steel to prevent rust and corrosion and ensure a long lifespan.
Control cabinet-temperature controller/PLC plus HMI: The control cabinet is an essential part of the brewing equipment, and it includes a temperature controller and a programmable logic controller (PLC) with a human-machine interface (HMI). The control cabinet allows brewers to monitor and adjust the temperature and other parameters of the brewing process.
Sensors for detecting temperature or the liquid level: Sensors are used to detect the temperature and liquid level during the brewing process. They play a vital role in ensuring that the brewing process is efficient and consistent.
Pumps for wort transfer: Pumps are used to transfer wort from one vessel to another. It is essential to have high-quality pumps that are reliable and efficient. The pumps should be made of food-grade materials and should be easy to disassemble and clean.
If you choose fully automated brewhouse equipment that uses PLC control, then the program you use is important. Fully automated brewhouse equipment that uses PLC control offers several advantages. The program used is crucial to the brewing process, and it should be reliable and easy to use. YoLong automated software and controls provide significant advantages in electrical design and programming work. They also have a professional engineer team that provides long-term technical support for any control problem before and after the sale.
YoLong automated software and controls offer big advantages in electrical design and programming work. 
We have a special professional engineer team that provides long-term technical support for any control problem before and after the sale.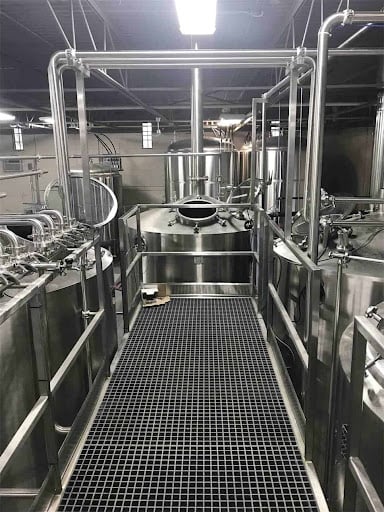 30HL 4V Brewhouse
HOW TO CHOOSE THE HEATING OF BREWHOUSE EQUIPMENT?
Many brewers are very concerned about the heating method of the brewhouse equipment. Homebrewers might not know about the differences between the various heating methods. Check out your local tech school that offers night classes, as many give lectures on brewing zymology and its practical applications.
Basically, there are three ways of heating in a brewhouse. They all work in different ways and give similar results. There is no single best heating method; you can choose one who more suits your site condition.
Depending on your size, budget, and goals, there will be a different brewhouse heating option that works best for you. These are the three main options for Brewhouse heating:
Steam: Steam is a popular heating method used in many breweries. It involves heating water to produce steam, which is then used to heat the wort. Steam heating is efficient and can heat the wort evenly. It also helps to prevent scorching of the wort, which can affect the quality of the beer. However, steam heating can be expensive to install, and it requires a lot of energy to operate.
Direct Heat: Direct heat involves heating the wort directly using a heat source, such as a gas burner. Direct heating is a simple and affordable method that is easy to control. However, it can lead to scorching of the wort, which can affect the quality of the beer. It is also not very efficient, and it can take a long time to heat the wort.
Electric: Electric heating involves using an electric heating element to heat the wort. It is a simple and efficient method that is easy to control. It is also clean and does not produce any harmful gases or emissions. However, electric heating can be expensive to install, and it requires a lot of energy to operate.
Each of those pros and cons should help you figure out which is right for you. However, if you're still a little unsure then these are some general recommendations for what works best for each of these methods:
Steam – Steam works great for most people who need control and scale. The only real downside here is the cost and the safety training involved. So, if these factors aren't going to be a problem for you, then steam is the best choice.
Direct Heat – Direct heat has some positives even if there are a few drawbacks. This method is going to work for most people on a medium scale or with a lower budget.
Electric – This method is mainly only recommended for smaller brewhouses where the others aren't an option due to space or cost. However, with some care, it can still work. There are just a lot more downsides involved.
Please reach out to the YoLong team if you need advice on heating methods.
DO YOU HAVE BREWING QUESTIONS?
DOES YOUR BREWHOUSE NEED TURNKEY PROJECT SERVICES?
Turnkey Breweries for You, the Brewer
Brewhouse Turnkey services involve the provision of a completed product or service – ready for immediate use: no running in, no warming up, just straight to work.
Brewery Installation
YoLong has been designing, fabricating, and installing breweries for over fifteen years. We understand that brewers have a lot on their "to-do" list when undergoing an expansion or new brewery installation. 
That's why we offer to do the planning and building of the brewery for you. YoLong has the expertise, knowledge, and most importantly, the budget-consciousness to install and commission your ideal brewery.
When YoLong undertakes to build a turnkey project for you, we combine our core engineering systems with world renowned system components from well-known, distinguished companies. Every component is guaranteed with fast, reliable global service.
Flexibility: Whatever idea you have for your brewery, we can make it happen.
One-Stop Service: There is no need for you to jump from one supplier to another when you choose the YoLong turnkey service.
Best Price: When you make the decision to get your brewery or expansion done from a single source, you can be sure that we deliver on time and within budget.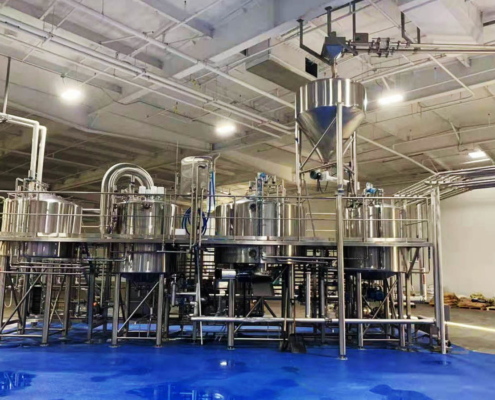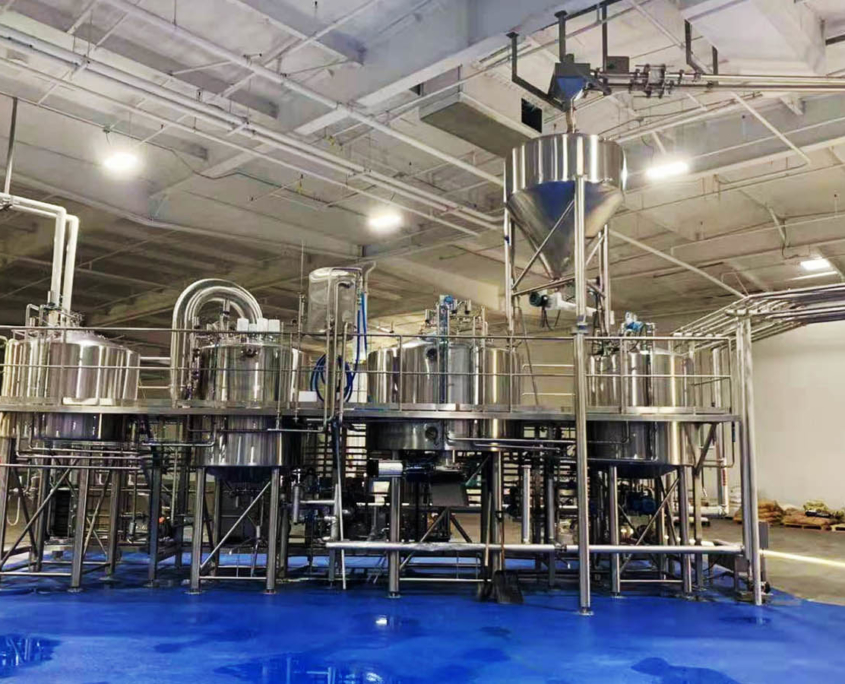 15BBL Turnkey Brewery Equipment
Description of the YoLong Turnkey Projects
At YoLong, we listen to your requirements and provide a clearly defined interface service that can be completely customized to the clients' individual needs.
Project coordination of third party systems

On-site management during installation

Classic, innovative brewing technology

Support for client's product choice

24/7 customer service

Licensing procedural information
EXAMPLES OF TURNKEY-KEY BREWING EQUIPMENT
15BBL 4 VESSELS STEAM HEATING BREWING SYSTEM
24HL 5 VESSELS STEAM HEATING FULL-AUTO BREWING SYSTEM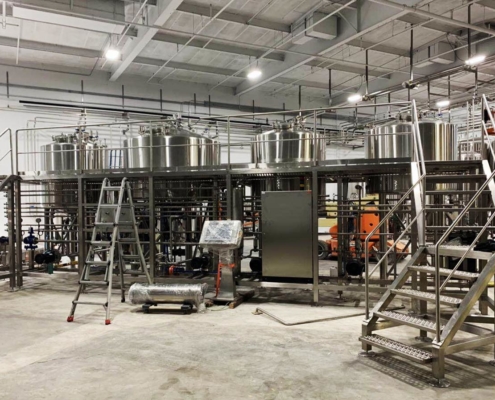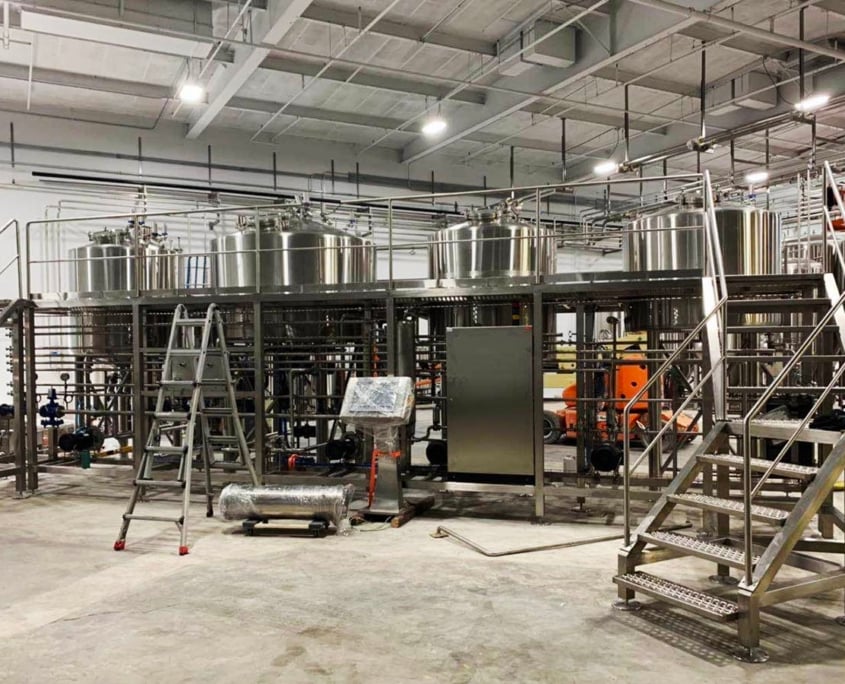 15BBL 4 Vessels Turnkey Brewery Equipment
WANT TO BUILD
&

GROW YOUR BREWERY?
From equipment costs to brewery size, construction costs and licensing, brewery operating costs can vary widely depending on your specific operation.
When estimating the price of your investment. We have multiple types of equipment available as well as brewery equipment financing options to help you start up and running.
Nano Brewery Equipment (1BBL-5BBL)

Brewpub Brewing Equipment (5BBL-10BBL)

Microbrewery Equipment (10BBL-20BBL)

Commercial Brewery Equipment (20BBL-50BBL)
Contact us to learn more about brewing equipment or submit a request for brewery pricing using the button below.
PED, AS1210 pressure vessels
UL/CUL/CE electrical cabinet control
Brewing system manuals
Site-size & budget-friendly custom designed equipment
Wide range of capacity & automation levels
All customer inquiries welcome
Product Testing & Manufacturing
Surface polishing & Pressure testing
Welding inspection
Production management
Highest international standard brewery equipment
Excellent detailing & finish
World renowned accessories and electronics
Equipment delivered & installed on time
Regular progress updates with etailed product images
Informative project scheduling & reports
Tank replacement
Personal customer service
Help whenever you need it & free training
"We use YoLong brewhouse (20HL, fully automated), their water station, CIP and all FV's."
I had my doubts ordering basically a whole brewery overseas, and was super worried what we were going to get when 5 trucks arrived from the port.
Equipment we got is of superb quality, perfect welds, well polished, packaged and you could see it was taken care of really good. It runs great, in 1 year we had zero (0) problems, except 2 leaks of seals on pumps, but that is normal. Guys at YoLong are also super responsive, we were able to solve everything via Skype. The guys in YoLong is super friendly and had great knowledge of the brewing process and equipment overall. And they're also super responsive, even during their nighttime if there's a case of emergency."
Overall I would recommend YoLong without a second of hesitation.
"We wanted to invest in most quality equipment our budget permitted. Most European manufactures were far beyond our budget, and we had heard horror stories about Chinese manufactures. We were lucky to get a reference for YoLong and contact them, requesting a proposal. After their initial tender, we had a lot of correspondence to customize our equipment in our needs. Communication was easy, and that is rare when dealing with Chinese manufacturers. They were able to provide easy and affordable solutions to our demands. They also refuse to use cheap and unreliable components. We were able to design a robust 4-vessel 20hL brewhouse, capable of producing beers with plato over 25. Although YoLong is not the cheapest, they are a manufacturer that can guarantee reliability and lifetime service."
"I highly recommend this company as I found them and there team to be very professional to work with and there workmanship to be first class.
I would defiantly buy from them in the future and recommend to anyone that is serious about high quality equipment purchasing."
"After a year of research, Yolong Brewtech was suggested to us, the service was professional, reliable and comprehensive, the manufacturing quality impeccable. We had found our manufacturer. We will continue to work with Yolong Brewtech for our future projects'".
"Yolong has been superior, and world class in providing for our brewing industry stainless steel fabrication needs. Their communication, guidance, expertise and support has always been outstanding, and I am often surprised by their generosity and willingness to go above and beyond with creative solutions and after sales support. Working with Yolong feels like a collaborative partnership, and I absolutely recommend their high quality brewery manufactur, and will be using them again in future."
"We had been planning to upgrade our brewhouse for several years and decided on a skid-mounted, two vessel 13HL system from YoLong. They have been great to work with and we are really excited to take delivery of the brewhouse and get brewing."
"We ordered a couple of tanks and accessories from Yolong Brewtech were responsive and understood our needs well. Production was completed in a timely manner and quality was good. But most importantly, after sales service was good and they were able to troubleshoot and offer solutions to most problems that we encountered."
"We are very happy with the professional help we got to customize our brew house. Quick answers and broad understanding of our needs."
Interested in learning more about Brewing Systems including additional details and pricing information? Please use the form below to contact us!