Are you looking for a conical tank for your brewery? A conical fermenter is one of the most popular utilitarian beer fermenters on the market. 
The fermentation tank is essential microbrewery equipment. Fermenters are an important part of every brewery, from the smallest home brewery setup to the largest commercial brewery enterprise. 
Although any receptacle could ostensibly be used as a fermentation vessel, the technology used to manufacture these vessels today is state of the art. You could say that a fermenter is where all the magic happens, where the great craft beer is born.
With this in mind, the fermentation tank should always be the object of key supervision and management, if you want the end result to be the production of high-quality beer. 
Fermentation tank essentials:
High-quality materials and craftsmanship

Easy to understand, operate, and maintain

Designed to offer the best user experience

Durable and long lasting

Perfectly suited for the size of the layout and setup that is required

Stability

Budget friendly
At the beginning of any brewery setup, the brewmaster or operations manager must focus on buying the best and most reliable cellar tanks. This is key to consistently long-term, high quality beer production. Even if you pay a little more for the unit you are buying, a solidly good fermentation tank produces tastier beer, which leads to more profit and a faster payoff. Cutting corners is never a good idea if you want to replicate your beer recipe accurately and reliably every time.
YoLong Beer Fermentation Tanks are constructed with cooling jacket, insulation, and cone-shape bottom called conical tanks or conical fermenters. The best brewing fermenter is constructed from premium grade stainless steel. A stainless steel fermenter is both durable and strong.
Our best selling Stainless Steel Fermentation Tank comes complete with top-dished head and custom-fabricated round body.
All YoLong welding is done under a controlled protection-gas atmosphere; interior and exterior finishes are perfected, and cooling jackets complete the highest standard YoLong Fermentation Tank/Vessel.
YoLong has been fabricating internationally recognized superior standard stainless steel tanks for over 15 years. We can provide PED and AS1210 certifications for your custom-ordered fermentation vessel that meets the government requirements in your country anywhere in the world.
It is this dedication to consistently finest finished production, as well as the durable and long lasting quality of every YoLong fermenter produced, that has earned us global recognition as the beer equipment manufacturer of choice.
Custom Beer Fermenter
How to plan ahead the brewery fermentation tanks for your brewery?
We suggest that you always base your choice on what room space is available (length/height x width x breadth) on site at your chosen location.
Next: what beer output do you need for stable supply and sales? Do you have an expansion planned? What are your mid to long term beer production goals?
First:
Choose the volume of the fermenter for beer according to the output of the Brewhouse. You can choose a fermenter based on single, double, or even multiple times the volume of the Brewhouse output. Of course, this depends on the total output efficiency  of the brewhouse. Conical fermentation is one of the most requested brewery equipment orders we are asked to custom produce for our valued clientele. 
Second:
Arranging each fermentation period according to the output plan. The work schedule of the tank, the cleaning cycle, if they work efficiently, etc. Operating efficiency is directly related to your profit turnover.
Third:
As your brewery business expands, you may find that the current number of existing fermentation tanks is not enough. If the space is already fully utilized, your best bet might be to build an additional cellar room. Each YoLong fermenter is manufactured to work on its own or with many other fermenters, according to the volume output you require.

YoLong fermenters can be bought with a few to future expansion; if more volume output is needed, we can help you plan how to make space for subsequent expansions of production capacity. 

If you want bigger output, you can choose the YoLong unitank, which acts in the capacity of a fermenter and BBT. This arrangement will free up space for you to fit in more fermenters. 

Before your YoLong fermentation tank is delivered, a drainage ditch must be designed.

For countries located in earthquake zones, New Zealand, Japan, etc. Every fermenter is shipped with bolt holes on the fermentation tank legs which can then be fixed in place. This must be requested in advance so that the bolt holes can be included in the design.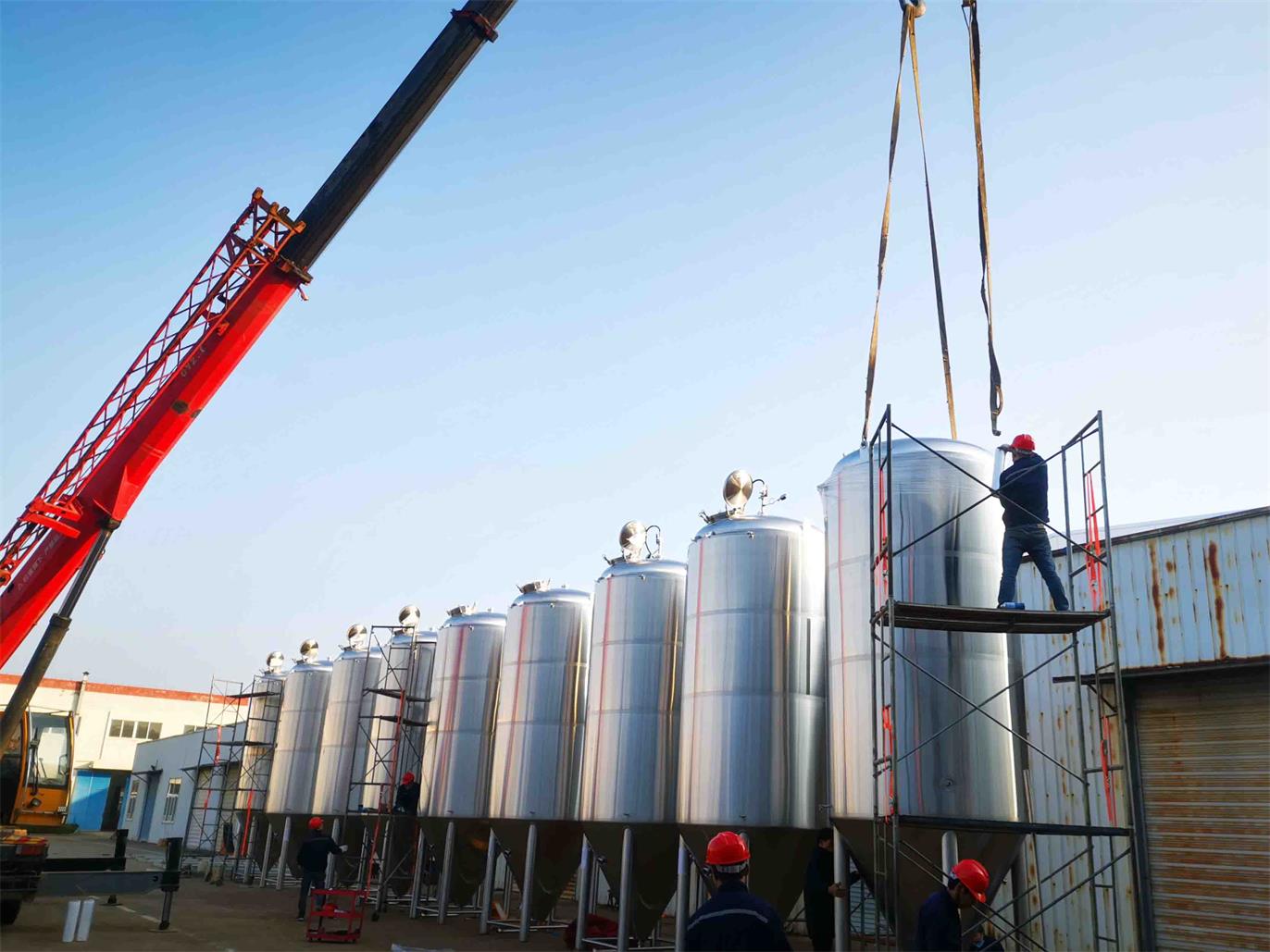 Fermentation tanks manufacturer
For large fermentation tanks, the production process, as well as the transportation and installation, are far more cumbersome than small size fermenters.
During the manufacturing process, large-scale fermentation tank production processes require specialist lifting tools.  This means that the manufacturing process is slower, because the workers have to add highest quality welding and other production parts.
The length of a single weld for a large-scale fermentation tank takes longer for our welding technicians to do. The work must show beautiful craftsmanship, as well as functionality and flawless finish.
Staying focused for a longer period ensures continuous consistency and quality of the welds: the hallmark of any YoLong conical fermenter. Additionally, controlled measures are taken to ensure there is no roughness or dent, because this is where germs can hide. Aesthetics and hygiene are important here at YoLong.
In the process of assembling the inner and outer cylinders, a vehicle-mounted crane is used during assembly. This requires the skill of the workers who operate the hoists and ground cooperating personnel are there to oversee.
This skilled and coordinated effort ensures the perfect combination of the inner and outer cylinders, with no friction and scratches, no matter how large the stainless fermenter size.
Large-scale fermentation tanks are more complicated to manufacture than small-scale fermentation tanks. They are generally set up outdoors, and that means the place where they are to be set up must be built in advance.
The ground must be level and able to bear the fermenter's weight. This is why every large scale YoLong fermentation tank comes with special adjustable feet, which allows it to automatically adapt to minor ground irregularities, keeping the bulky fermenter perpendicular to the ground for stability.
A YoLong conical fermenter is designed to promote optimal beer fermentation. If you are looking for a conical fermenter for sale, please contact the YoLong team and we can suggest the best fermentation equipment to suit your budget and layout.
The most common choice-conical fermentation tank
Commercial/ industrial stainless steel conical beer fermenter is a modular cylindrically-conical tank consist of a base tank (BT) and expansion accessories (valves, fittings, armatures etc.). By choosing and using various types of expansion accessories, it is possible to assemble the tank in several configurations that are optimal for production process. Accessories for expansion of the modular cylindrically- conical tanks include: Manhole, butterfly valve, sample valve, safety valve, venting valve, thermometer socket, manometer and filling level indicator.
YoLong conical fermenter are designed to promote optimal fermentation of beer.
Specification:
Made of stainless steel 304
Standardized dimensions and equipment, or according to individual customer requirements
Classic design, PU insulation, double stainless steel jacket, water (or glycol) cooling duplicators
Accurate temperature control and reliable CIP are requirements to ensure a quality finished product
Fermenters offered with side rotating racking arms or standpipe design plus hop ports.
An extra tri-clamp fitting can be added for a carbonation stone if desired.
Cone angles can be changed to suit customer requirements.
Adjustable pressure valve for controlled fermentation – Overpressure setting mechanism with a glycerine manometer
PU insulation – polyurethane insulation with thickness according to the size of the tank and the target environment
Guaranteed inner surface roughness : Ra < 0.8 μm or less (grinded surfaces) / Ra < 0.5 μm or less (polished surfaces), according to customer´s requirement
Service door (manhole) on the top cone or on cylinder part, according to customer requirements
Pure-beverage output armature with a butterfly valve for pure beverage (beer, wine, cider) output
Sample valve – cleanable and sanitizable sampling cock for collection product samples
Safety valve – double-acting overpressure and vaccum protection safety valve
Venting valve – Dedicated venting valve for safety draining of the tank and for accurate measuring of current pressure in the tank using manometer (it ensures properly function of the manometer when the shower ball shower is blocked with a foam)
Thermometer socket – welded socket for inserting of thermosensor or thermometer
Manometer – It is included in the set of the adjustable pressure valve. Made of stainless steel, with glycerine inside.
Filling level indicator – Sanitizable glass or plastic pipe for visualisation height level of the beverage product in the tank
The Best Fermenter for Your Brewery Setup
Whether you have a homebrew setup or produce a million barrels of your beer each year, the transformation of wort into beer is the most crucial stage in the beer making process. YoLong is the ideal place to begin your search for a new fermenter. Our team of experts offer a complete custom service to help you look at product pricing, options, designs, and installations. We will do all the work for you when it comes to choosing the best fermenter for your brewery setup.
The classic fermenter shape used in breweries now has a conical bottom structure. The YoLong team can also offer a complete floor layout and installation service to assist the brewer determine optimal floor space utilization.
Fermenters are very important items when a brewery expansion is being considered. More fermenters = more beer. That's the beauty about buying a fermenter for beer: you can select one for the most humble homebrew setup or buy twenty fermenter vessels for a multimillion dollar expansion.
Interested in learning more about Brewing Systems including additional details and pricing information? Please use the form below to contact us!