HOW TO CONFIGURE CIP FOR YOUR BREWHOUSE
To clean microbrewery equipment, and especially the brewhouse, CIP equipment and pipelines should be reasonably configured. There are several aspects that should be considered when configuring proper CIP equipment/pipelines: easy operation, efficient cleaning, and cost etc. Here below are some tips how to configure your CIP according to brewhouse size and automation-degree difference  1. USE PORTABLE PUMP AS CIP CART Suitable for brewpubs or microbreweries with brewhouse size below 5BBL while having low brewing activity. Portable Pump will be workable.
Use the Boil Kettle as a CIP tank to mix CIP liquid.

Use the Portable Pump as a CIP pump to clean the brewhouse and Cellar tanks.
PROS:
Save Money 

Save Space 

Portable Pump is Easy to Move
CONS: 
Cannot Brew During Brew Kettle Mixing CIP Liquid 

Need Deep Clean Brew Kettle After Mixing CIP liquid

Brew Kettle Damage Risk After Long Usage
2. HOW TO CONFIGURE CIP PIPELINES WHEN CIP CART AVAILABLE CIP cart is suitable for microbrewery size above 5BBL and has high brewing activity. CIP Cart could work as a CIP Station and be cost-effective. How to Configure CIP Pipelines When CIP Cart is Available? 1) Simple Manual Brewhouse with 2V Combination: For a simple manual brewhouse, especially below 10BBL in size, a simple CIP arm is recommended. Here, there is only a simple arm on the tank, and hoses will work as temporary CIP supply and return pipelines. This configuration is cost-saving but laborious and there is a potential for injury while connecting/disconnecting the valves and hoses.
2) Semi-Auto Brewhouse with 3V/4V Combination: For Semi-Auto Brewhouse with 3V/4V combination or more, Integrated CIP Pipelines is recommended. There is integrated CIP supply and return pipelines with valves panel to connect CIP Cart.  During CIP, Brewer just needs to operate valves to CIP each vessel of brewhouse without connect/disconnect valves and hoses. It makes the CIP process much easier and labor-saving while un-obviously investment increasing. 
3. High Auto Brewhouse with 3V/4V Combination: For High-Auto Brewhouse with 3V/4V combination or more, Integrated CIP Pipelines is recommended. The brewhouse will be equipped with full automatic CIP valves and specialized CIP pump and RO water pipelines and HLT pipelines will be connected with CIP pipelines to realize "Full-Auto Control CIP Process." Design and control of the integrated high-auto CIP pipelines is complicated. The full-auto CIP process shall be 100% granted: sanitary, no dead-space and no mixing of CIP liquid with Wort/Water and manual control as little as possible to avoid any faulty-operation. The payback is significant even first-investable is higher.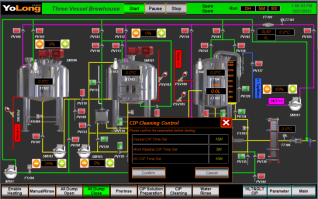 For any other enquiry you may have please search and read our FAQ section. If you still haven't found what you are looking for our support team is always ready with an answer at [email protected] , now also available on WhatsApp.
Interested in learning more about Brewing Systems including additional details and pricing information? Please use the form below to contact us!