Is Beer Good For Your Health?
Alcohol is one of the most debated topics when it comes to health.
There has been much emphasis on the subject of alcohol consumption, with people taking both sides of the argument.
When it comes to alcohols, there is in fact much diversity in the kind of drinks consumed by people. These include, among others, wines, beer, whisky, rum, etc.
Coming to beer, there is one question that lingers in the minds of many, which is with regard to its safety.
As with other alcohols, there has been many questions with regard to how safe is beer consumption. Having read much about the dangers of alcohol consumption, and its often lethal effects on individuals, the question is always the same thing,
"Is beer good for health?"
It is understandable that people are curious about this fact. It is only natural that people ask this question, for almost everyone is worried about their health in one way or another (although we all going to die one day). Also, given that there has been a great deal of awareness in recent times, as to the dangerous effects of alcohol on the human body, it has certainly fuelled the curiosity even more.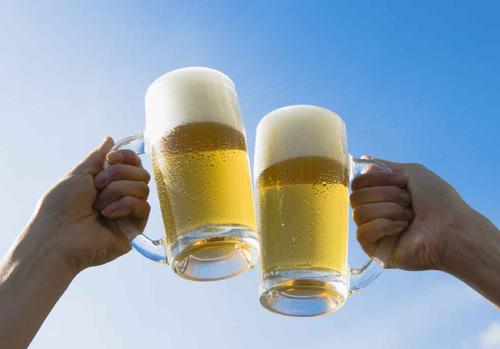 The answer to this question is, however, not as clear as the question itself.
On the contrary, there is in fact a lot of variation on the correct answer. Currently available research seems to suggest an almost divided opinion on the subject, with some suggesting it as good, and others calling it bad.
In simple words, the answer to the question lies somewhere in between good and bad. Alcohol, being the main chemical present in beer, is something that is known to be bad for your liver. This would, logically speaking, imply that the consumption of beer is bad for one's health. And indeed, that is the conclusion of many people, who are of the opinion that beer is bad for you in its entirety.
This is however, something that doesn't compute with the latest scientific studies. The fact is that while alcohol is bad for you, many people don't have any idea about the subject in actual figures or research. One could say that they are in a state of confusion, due to the conflicting information that they have been getting from just about everywhere.
If one were to take a look at actual studies that were conducted, it becomes clear that some alcohol can actually be good for health. There have been studies conducted which showed that beer helped in the maintenance of health, through improving cholesterol levels, preventing heart disease and neurodegenerative disease. The quantity for the same has been set at up to one drink a day in women and two in men.
At the same time however, the study does add that there is a limitation on who exactly is to be allowed to consume beer. Some of the people who are advised to refrain from beer consumption include pregnant women, children, adolescents, those with liver disorders, depression, etc. Another thing to note here is that the aforementioned groups of people are to refrain from any quantity of beer whatsoever.
Also to add here is that beer is something to be avoided for those who have a risk of addictions, since the consumption of alcohol may shift from something that is an occasional indulgence, to severe alcoholism. This may not always be the case but it is in simply words, a precautionary measure.
In simple words, it is a good idea to restrict the consumption of alcohol, in all its forms beyond a certain point. While there is certainly evidence that beer and other alcohols may have a health benefit, it is something that applies only when consumed in moderation. As soon as the moderation point has been crossed, it turns from being good to becoming something bad.
Also, this is something that applies to everything ranging from beer to alcohol and everything in between. It is not something that is in any way specific to just beer alone.
As for those who would like to abstain from all alcohol, there is certainly nothing wrong with it.
There is nothing wrong if you prefer to avoid alcohol in its entirety, whether for the sake of health, religion, preference or for that matter anything else. There are several reasons as to why people would avoid the consumption of alcohol, all of which have their own unique merit and validity.
It is a personal choice and if that is what you believe is good for you, and then by all means, go for it. However, do make sure that it is something you will have to engage in based on your own convictions and choice, rather than being something that you is forced into.
What it all comes down to at the end of the day is that it is your life; and ultimately something you will have to figure out on your own.
In all, it can be said that there is really no clear cut answer as to whether beer is good or bad for you; while it may have a good effect in some cases, there are others where it might prove to be bad.
The reason for this is because of several factors, all of which play a unique role in influencing how it interacts with the body. This variation in the way everything plays out makes it rather difficult to know exactly how to approach the subject.
However, it can be said that beer consumption, just like in the case of any alcohol, when done in moderation, should work out in the long run for just about everyone in a safe way. As long as you are sticking to an upper limit of around one drink for women or two for men, you should be able to do fine in the long run.
And if you are ever thinking about producing your own beer and make it healthier, make sure to check our wonderful brite beer tanks and learn how we can help you to achieve that goal.
ARE YOU HAVE BREWING QUESTIONS?
YoLong Brewtech has been engaged in consulting, design and manufacture of professional beer brewing equipment since 2004. And are actively sharing our expertise on more brewing and equipment. If you have any questions or requirements about brewing equipment, you can contact our professional technical engineers to find the answer.
Interested in learning more about Brewing Systems including additional details and pricing information? Please use the form below to contact us!