How To Makes Brewing Easily Via Automation_YoLong Brewtech
Automation is not just a word, it is a mixture of experience and knowledge and realized by programme and instruments. Instruments and automatic valves are skin and hands & legs, programme is the brain, so it is the most important factor to see a company's experience.
Automation in brewery should connect all parties in brewery in series and monitor & control in control room. Automation saves brewers labour and makes sure people security. Automation helps brewers to think and remind all relative factors which might be ignored or forgotten by person to make sure beer quality. Automation makes sure equipment in normal running condition and avoid broken to have a long working life.
For mid-size craft brewery, investment is one of important issues which has to be considered by owners or investors, so trying to be reasonable automation has been becoming an important research subject for YoLong Programme team. We've had lots of "ask for" and "answer" to build communication of each parties.
Prepare malt by BH HMI ( recipe manager for malt mixture, weight controlled grist case), control will be also able via webserver
Starting brew process briefly description
2.1. pre water insert Mash Tun by user set value(mash in temperature,water value)
2.2. insert mash in water by user set value (mash in temperature,water value) and same time start malt transfer from milling section, start agitator with user speed
2.2. stop malt transfer, rinse grist hydrator ( user water value)
2.3. start mashing program, 6 steps. optional more if needed.
2.4. signal at 72°C rest for iodine check, preparing LT ( hot rinse by time or value to heat up, set rakings in low position, lift scraper).
2.5. mash out at 78°C automatically
2.6. mash transfer with pump ramp up to a max. user speed in user given time, start raking at a system given speed to ensure a quite homogeneous leveling of the mash in LT
2.7. at a fixed value ( about 75% transferred mash) lift the raking device to top position and stop)
2.8. by evaluated level MT( user given liters left) rinse MT ( user water value, fixed 78°C) and transfer to LT
2.9. finish transfer process by flow sensor of mash pump and close LT inlets, start lautering (user given time).
3.0. drain MT and transfer line and rinse MT (user given water value and temperature),
3.1. drain unsed line with fixed timer delay ( evaluated time)
3.2. start lautering by setting pressure difference in LT to zero. compressing grain by pulsing outlet valve ( user give cycles)
3.3. wort circulation into LT basically by filling end emptiing the lauter lantern ( user given cycles e.g. 3 times)
3.4. switching lautering to buffer tank or wort kettle
3.5.  after first wort and beginning of 1. sparge start raking device at lowest speed 1 full turn should be about 5 minutes and the raking device will be level to a evaluated height (e.g. 200mm) to start slowly cutting the grain.
3.6. the raking device will autom
atically turn down to lowest level refering to the wortcounter.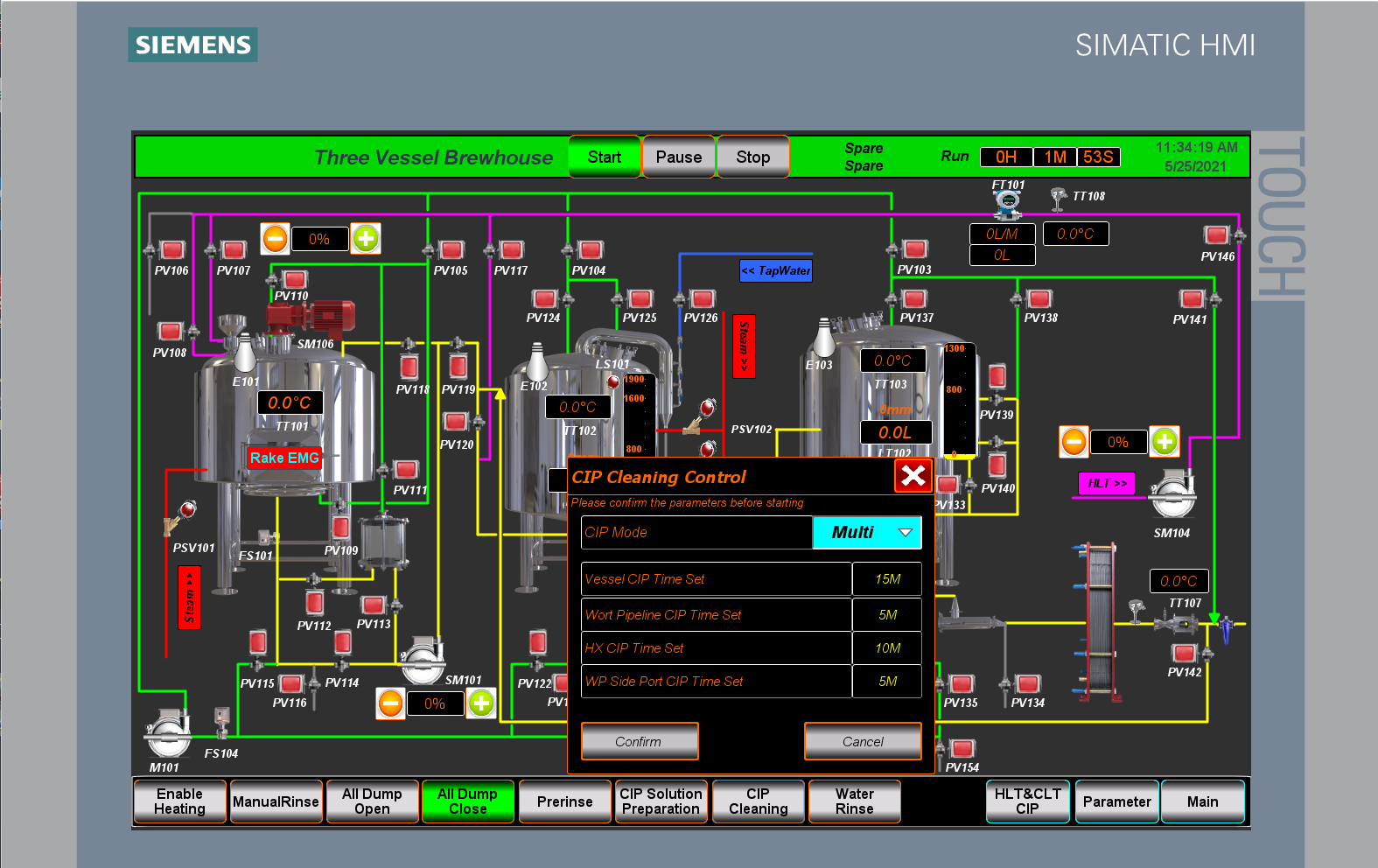 3.7. during lauter process the pre boil will start automatically to a user given temperature (e.g.97°C)
3.8. when lautering is at final value user nee
ds to confirm finish after checking wort gravity manually. If not system will go on lautering until confirmation.
3.9. if lautering finished, lauterline will be drained for a certain time to dry the spent grain. Meanwhile boiling. (max. 6 hop doses, separate steam values etc.)
4.0. For boiling temperatures,flow and pressure will be watched, automatic hop dosing will be done after user given boiling time.
4.1. when boiling finished user has to confirm gravity and process done.
4.2. transfer to Whirlpool uses similar values as transfer MT-LT. If done Whirlpoolrest(user value).
4.3. Confirmation for cooling start.
4.4. Automatic wort cooling, by flow and temperature.
Interested in learning more about Brewing Systems including additional details and pricing information? Please use the form below to contact us!