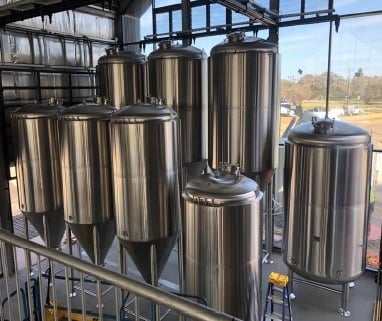 Understanding 7 BBL Brewing Equipment
A 7 barrel (BBL) brewhouse system provides an ideal capacity for small to mid-size craft breweries looking to produce distinctive, quality beers. This comprehensive guide covers key components of 7 BBL brewing equipment, process overview, layout options, leading suppliers, pricing, pros and cons, and considerations for optimizing a 7 barrel commercial brewery.
Overview of 7 BBL Brewing Systems
A 7 barrel brewery refers to a commercial brewhouse designed to produce 7 barrels per batch. With 31 gallons per barrel, this equates to 217 gallons or 588 cases of 12 oz beers per batch.
Reasons a starting or growing craft brewery may select 7 BBL equipment include:
Matches capacity needs for taproom sales and initial distribution
Lower capital investment versus larger systems
Manageable vessel sizes for small spaces
Allows flexibility for experimentation
Scalable to add more batches or units as demand grows
This guide provides an in-depth look at 7 BBL brewery components, configurations, suppliers, costs, and key factors in designing an optimal 7 barrel brewhouse.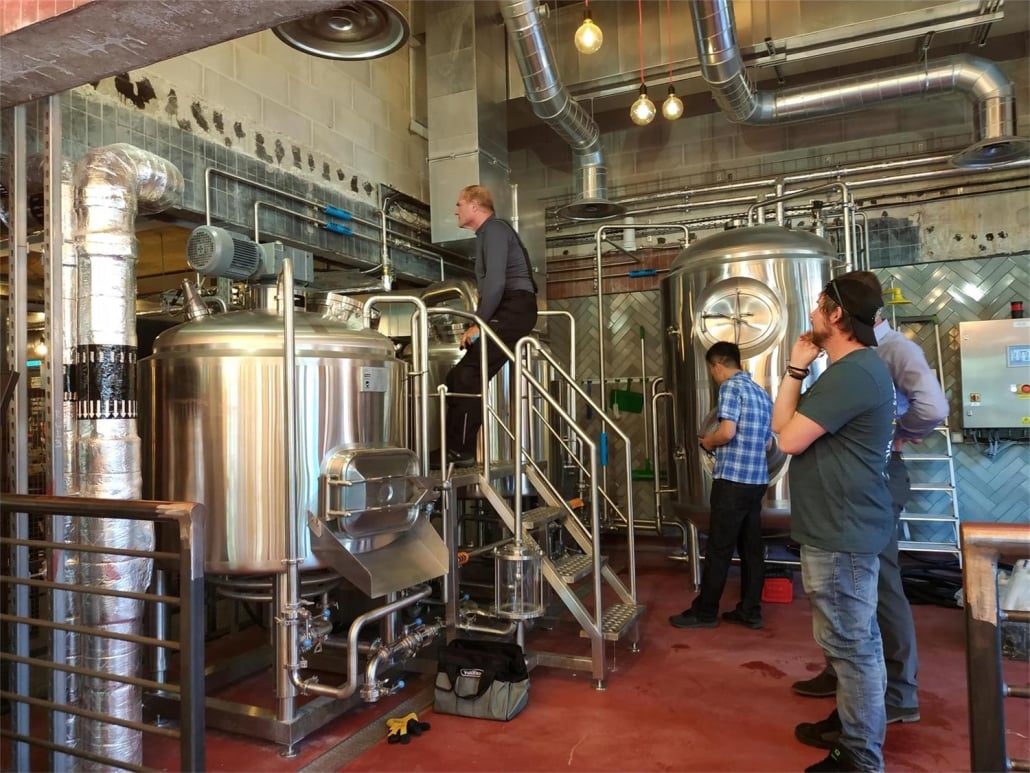 Components of a 7 BBL Brewhouse
A complete 7 BBL commercial brewing system consists of the following main equipment modules:
Brewing Vessels
7 BBL brew kettle
7 BBL mash tun
7 BBL fermenter tanks
Brite tanks for storage
Production Steps
Milling, mashing, lautering equipment
Wort boiling kettle
Whirlpool
Chilling system
Yeast pitching and fermentation
Filtration system
Supporting Infrastructure
Grain handling systems
Piping
Pumps
Controls and automation
Steam systems
CIP systems
Safety equipment
Additional lab equipment, packaging lines, grain handling, and more complete an operational 7 BBL brewhouse.
Overview of the 7 BBL Commercial Brewing Process
The standard commercial beer production process involves:
Milling – Cracking malt grain shells to access fermentable starches
Mashing – Mixing cracked malt and hot water for starch conversion to sugars
Lautering – Separating wort from spent grains through straining
Boiling – Boiling wort with hops for flavoring and preservation
Fermentation – Yeast converts sugars into alcohol and CO2
Conditioning – Allowing beer maturation prior to packaging
Packaging – Kegging, canning or bottling for distribution
7 BBL systems are engineered to optimize this sequence for efficiency and consistency.
7 BBL Brewhouse Equipment Configurations
7 barrel systems come in different configurations:
Automated vs. Manual
Automated – Programmable PLC recipe control for hands-off operation
Manual – Basic vessels require more user operation
Steam vs. Electric
Steam heating – Uses steam boilers and piping
Electric heating – Precise control with integrated elements
Single vs. Multi-Vessel
Single vessel – Combined mash lauter tun and boil kettle
Multi-vessel – Separate mash tun, lauter tun and boil kettle
Layout Arrangement
Linear – Straight inline equipment layout
Compact – Vertically stacked to minimize footprint
Fully automated electric systems provide ease of use but at a premium cost over basic manual configurations.
Typical 7 BBL Brewery Layout and Flow
A 7 BBL brewhouse requires approximately 1,000 – 1,500 sq ft of space laid out into key zones:
Raw Materials – Milling, grain storage, scales
Brewing Area – Production vessels and steps
Utilities – Steam systems, glycol chillers, pumps
Controls – Operator stations and automation
Ancillary Spaces – Yeast handling, storage, cleaning
Packaging – Kegging, canning, bottling lines
An efficient layout balances workflow between zones while minimizing footprint. Linear layouts provide the most flexibility.
Customization Options for 7 BBL Brewing Systems
7 BBL breweries can be customized to unique requirements:
Specific vessel dimensions and material construction
Levels of automation
Electric, steam or hybrid heating systems
Additional equipment like heat exchangers, centrifuge, CIP
Integrating fermentation, brite and packaging modules
Monitoring and data tracking capabilities
Overall brewhouse footprint and layout
It is important to consider both current production needs and future expansion plans when engineering a custom 7 BBL brewery.
Leading 7 BBL Brewing Equipment Suppliers
There are many high quality brewhouse manufacturers that offer 7 BBL systems. Some of the top suppliers in North America include:
| Company | Location | System Types |
| --- | --- | --- |
| Specific Mechanical | Victoria, Canada | Manual and automated |
| Premier Stainless | Escondido, USA | Electric and steam configs |
| Psycho Brew | Greenville, USA | Budget manual systems |
| Rogue Fabrication | Moreno Valley, USA | Custom brewhouse engineering |
| Portland Kettleworks | Portland, USA | Multi-vessel brewhouses |
| SSW Brewery Supply | Charlotte, USA | Customizable systems |
Both local and nationwide suppliers provide options tailored to new and growing breweries.
7 BBL Brewing System Costs
A new 7 BBL brewhouse system represents an investment of $100,000 to $250,000 depending on the configuration:
Basic manual 7 BBL system – $100,000 – $150,000
Fully automated, electric – $200,000 – $250,000
Additional vessel modules – $10,000 – $15,000 each
Installation – $10,000 – $30,000
Ancillary equipment – $20,000 – $50,000
Used 7 BBL systems offer 25-50% cost savings versus new equipment. Leasing options also help spread out upfront capital costs over time.
Pros and Cons of 7 BBL Brewing Systems
| Advantages | Disadvantages |
| --- | --- |
| Ideal capacity for small breweries | Significant upfront capital investment |
| Improves consistency and control | Additional modules increase costs |
| Scalable for future growth | Requires full brewhouse footprint |
| Flexibility for R&D and experimentation | Complex systems need training/maintenance |
| Complete solutions from suppliers | Manual systems require heavy lifting |
| Shorter lead times for used equipment | New systems may have long 12-20 week lead times |
Applications for 7 BBL Brewhouse Systems
The 7 BBL capacity matches the production needs for:
Taproom brewpubs and tasting rooms
Local restaurants and bars
Specialty craft breweries
Pilot systems in larger breweries
Starting nano breweries scaling up
Private clubs or event centers
This size enables limited self-distribution in local markets before scaling up.
How to Select the Right 7 BBL System Provider
Important factors in choosing a 7 BBL brewhouse supplier include:
Proven reputation for quality and reliability
Breadth of equipment modules and customization options
Manufacturing quality and materials
Flexibility to meet unique specifications
Services like design, integration, training
Staff expertise to guide optimal system configuration
Available options like automation and telemetry
Overall value matching budget and growth plans
Evaluating multiple recommended suppliers is key to finding the best system. Tour existing 7 BBL installations when possible.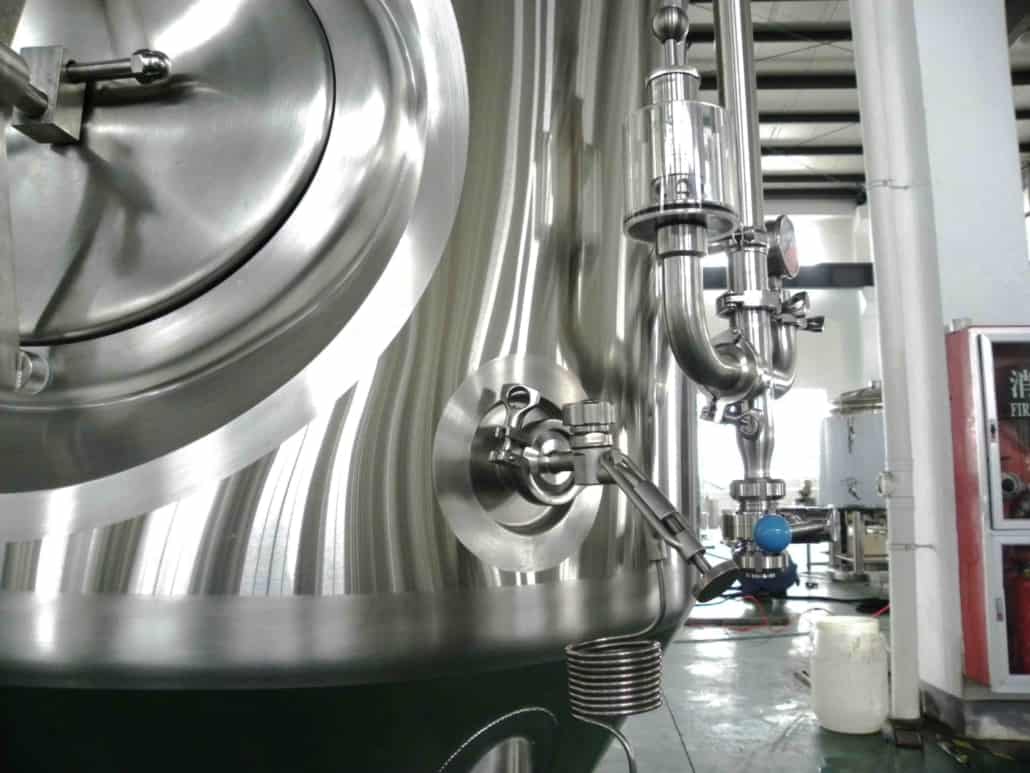 Frequently Asked Questions
What is the difference between direct vs indirect heat 7 BBL systems?
Direct fire brewhouses feature burners heating the kettles directly for efficiency. Indirect heat uses steam jackets or elements for more precise control.
How much beer can a 7 BBL system produce annually?
Running 3-4 batches weekly, 7 BBL systems can produce 500-1,000 barrels yearly. This scales up to 2,000-3,000 barrels with multi-unit expansions.
Does a 7 BBL system require special flooring?
Yes, reinforced floors are needed to handle vessel weight when filled. Trenches are often required for piping and drains.
What are the electrical requirements for a 7 BBL brewhouse?
Power needs vary based on configuration but typically range from 75-150 kilowatts depending on boiler size and number of motors.
What chemical storage and tanks are required?
Bulk storage tanks for caustic, acid and cleaning chemicals are required, along with proper containment. CIP systems automate delivery.
Conclusion
With a capacity ideal for small to mid-size craft breweries, a properly designed 7 BBL brewhouse creates efficiency, consistency and quality to support distinctive brands and recipes. When matched to production goals and growth plans, 7 BBL systems enable brewers to maximize their operations for local markets.
https://yolongbrewtech.com/wp-content/uploads/2022/07/brewry-cellar.jpg
357
382
yiyunyingliping
https://yolongbrewtech.com/wp-content/uploads/2022/08/YoLong-Brewtech-Logo-1-300x113.png
yiyunyingliping
2023-11-16 07:04:07
2023-11-16 07:04:11
Understanding 7 BBL Brewing Equipment