4 BBL Brewing Equipment is a medium-sized professional brewery setup capable of producing 120-150 gallons per batch. This size is well-suited for microbreweries looking to scale up production while retaining craft quality and flexibility.
4 BBL Brewing Equipment Guide
This section will provide an equipment guide detailing the key components of 4 BBL Brewing Equipment.
| Equipment Type | Description and Key Functions |
| --- | --- |
| Brew Kettle | The brew kettle or mash tun is one of the primary vessels where water is combined with malted grains to convert starches to sugar. A 4 BBL system would need a 5 BBL kettle size typically. |
| Lauter Tun | The lauter tun separates the sugary wort from the grains. It contains a false bottom plate and sparge arm to filter the wort. |
| Whirlpool | The whirlpool unit creates a spinning motion to separate trub and hop particles before the wort moves to the fermenter. This helps clarify the wort. |
| Heat Exchanger | A plate heat exchanger quickly cools down the hot wort before it is transferred to the fermenter. This is important to avoid oxidation and evaporation. |
| Fermentation Tanks | The fermenters are temperature and pressure controlled stainless steel vessels where the yeast converts sugar into alcohol and CO2. A 4 BBL setup would need (5x) 4 BBL fermenters typically. |
| Brite Tanks | Brite tanks allow storage and carbonation of finished beer before packaging. 4 BBL brite tanks enable holding 1-2 batches. |
| Filter | A whole house filtration system removes yeast, particles and haze for brilliantly clear beer. Plate and frame filters are commonly used. |
| Transfer Pumps | Centrifugal and sanitary transfer pumps efficiently move liquid between vessels with minimal oxygen uptake. |
| Cleaning and Sanitation | Clean-in-place (CIP) manifolds, reservoirs, pumps and spray balls provide automated cleaning and sanitization of equipment. |
| Glycol Chiller | The glycol chiller unit regulates temperatures of fermentation and brite tanks for optimal yeast activity. |
| Steam Boiler | The gas-fired steam boiler provides hot liquor for mashing grains in the brew kettle and powers the brewing process. |
| Control Panel | The control panel houses computer controls to enable automatic system operation and data capture. |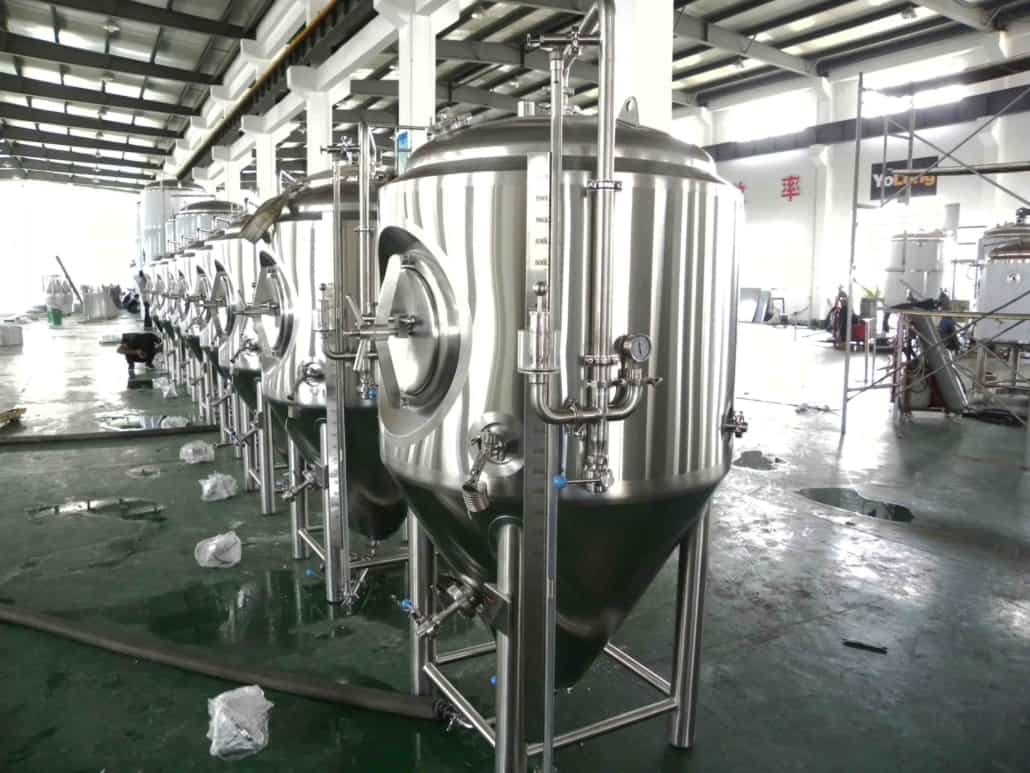 Customized 4 BBL Brewhouse Design and Layout
This section will cover how to customize and optimize the 4 BBL Brewing Equipment design for your facility size and production goals.
| Consideration | Details |
| --- | --- |
| Space and Dimension | A 4 BBL brewhouse occupies approximately a 800-1200 sq. ft footprint. Ceiling height, placement of tanks and flow between vessels should be optimized. |
| Production Volume | Target batch size, annual beer production and peak output will determine tank capacities and other equipment sizing. |
| Expandability | Consider potential future expansion needs in site layout and buffer space around equipment. modular designs allow for incremental upgrades |
| Budget | Estimate capital expenditure and operating costs. Optimize to match financial projections. |
| Design and Lead Times | Custom or turnkey systems? Choose quality fabricators and secure equipment production slots based on timelines. |
| Safety and Compliance | Ensure designs meet all brewery safety, electrical, plumbing and ventilation guidelines. Secure appropriate licensing. |
Suppliers and Costs
Here is a comparison of equipment costs from leading 4 BBL Brewing Equipment suppliers:
| Company | Price Range | Offerings |
| --- | --- | --- |
| Rolec Craft Brewing | $100,000 – $250,000 | Custom designs |
| Specific Mechanical | $150,000 – $300,000 | Turnkey systems |
| Portland Kettleworks | $180,000 – $280,000 | Made in USA |
| AAA Metal Fabrication | $120,000 – $220,000 | Value equipment |
| Mile Hi Equipment | $250,000 – $350,000 | Premium systems |
*Pricing indicative only; gets highly customized
Choosing the Right 4 BBL System Supplier
Here are key criteria to evaluate when selecting a 4 BBL Brewing Equipment supplier:
| Criteria | Considerations |
| --- | --- |
| Reputation and Track Record | Reviews, client lists, years in business |
| Customization Range | Ability to meet specialized layout or functionality requirements |
| Design Consultation Process | Guidance provided on equipment sizing, capacities, facility considerations |
| Equipment Quality and Craftsmanship | High-grade stainless steel, precise fabrication, durability |
| Lead Times | Production and delivery timelines |
| Options within Budget | System configurations matching capital expenditure budget |
| Local Service and Support | Availability of installations, maintenance and service crews near brewery location |
| Warranties | Equipment defects and performance coverage policies |
Installing and Operating 4 BBL Brewing Equipment
This section covers best practices around 4 BBL Brewing Equipment installation, operation, cleaning and ongoing maintenance.
| Activity | Guidelines |
| --- | --- |
| Site Prep | Flooring, drainage, electrical, ventilation and ancillary infrastructure should be completed prior to equipment delivery per supplier recommendations |
| Installation | Experienced crews supervise staging of tanks, wiring, piping, glycol and test connections as part of turnkey commissioning |
| Safety | Lock-out tag-out procedures, emergency stops, protective gear and training on safe chemical handling and equipment operation |
| Startup Assistance | Suppliers provide onsite support during initial batch productions to troubleshoot issues |
| Control Systems | Programming and data monitoring enable tracking brewery operations |
| Cleaning and Maintenance | Daily and weekly cleaning protocols per supplier guidelines, with routine inspections, lubrication, replacements of wear parts |
| Service Contracts | Scheduled annual servicing of control systems, pumps, filters, boiler etc. by qualified technicians |
| Pros | Cons |
| --- | --- |
| Flexible batch sizes | Higher equipment cost per barrel vs larger systems |
| Cann manage multiple beer varieties and experimentation | Takes up more floor space than 1-2 BBL nano setups |
| Cost-effective scaling up from pilot batches | Additional complexity in process piping and controls |
| Produces volume suitable for taprooms and distribution | Requires an advanced brewer's skill level |
| Quality and consistency improves with automation | Significant start-up effort in design, site prep, installation and licensing |
FAQs
Q: What size space do you need for a 4 BBL brewhouse?
A: Approximately 800-1200 square feet, with 10ft+ ceiling height. The actual footprint dimensions get custom designed based on your goals.
Q: How many people does it take to operate a 4 BBL system?
A: Realistically you need 1-2 skilled brewers who can handle an automated, medium-volume setup with beer transfers, CIP systems etc. Some additional cellar staff may help with packaging.
Q: What are the annual maintenance costs of 4BBL equipment?
A: Industry benchmarks estimate 4-6% of total equipment cost as yearly maintenance expenses. This covers periodic servicing, parts replacement, cleaning chemicals etc.
Q: Is 4 BBL a good size to distribute kegs or cans?
A: Yes, the roughly 150 gallon per batch output lets you establish tap accounts at bars and fill limited release cans for self-distribution if allowed by state laws.
https://yolongbrewtech.com/wp-content/uploads/2022/01/stacked-serving-tank.jpg
1069
1604
yiyunyingliping
https://yolongbrewtech.com/wp-content/uploads/2022/08/YoLong-Brewtech-Logo-1-300x113.png
yiyunyingliping
2023-11-22 02:11:52
2023-11-22 02:32:05
4 BBL Brewing Equipment