FAQ About Microbreweries and Brewpubs
What is the Difference Between a Manual, Semi-Automatic, & Automatic Microbrewery?
Every YoLong microbrewery installation features highest production efficiency. It's up to you to decide on the level of involvement you want in the brewing process. This means choosing between a manual, semi-automatic, and fully automatic setup.
Manual: A manual system is labor-intensive, but the equipment is cheaper. Over the long-run, you will have to decide on: How much time do you have to devote to your microbrewery? Do you want the option to change to a semi-automatic or automatic installation further down the line? If labor is expensive where you live (countries with high minimum wages) it might be cheaper in the long run to choose fully automatic.
Semi-Automatic Microbrewery: This is when the brewmaster controls some aspects of the brewing process, and others are automated.
Fully Automated Microbrewery: The favorite choice for independent brewers who want no mistakes and minimum staff involvement.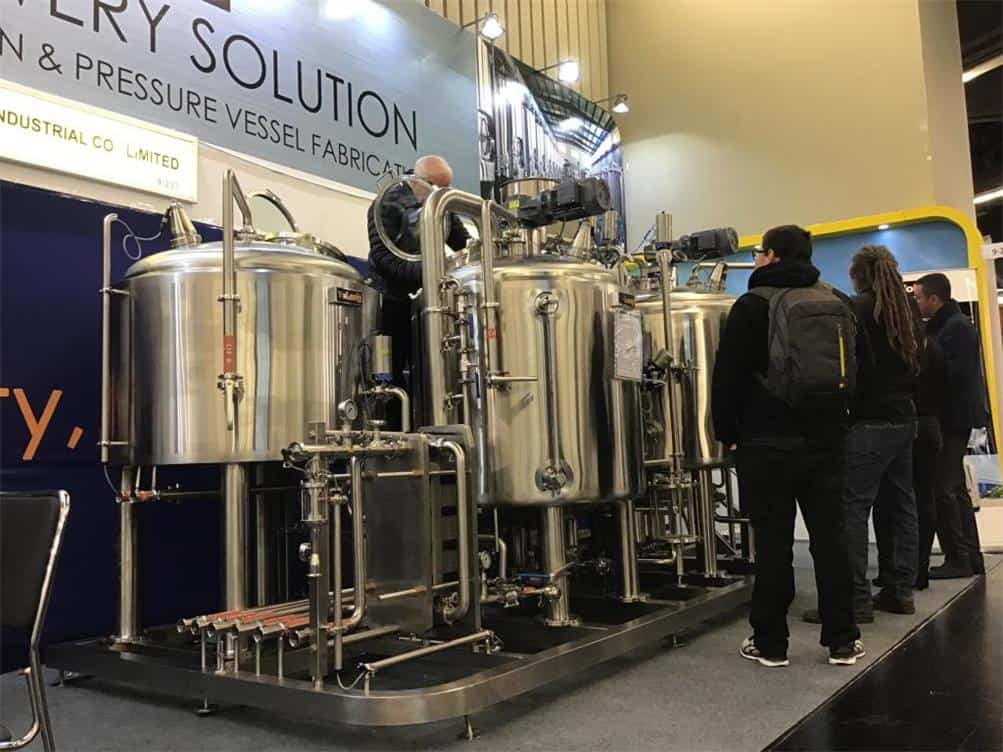 What are the functions of Manual, Semi-Automatic & Automatic?
What is the Difference Between a Brew Pub and a Microbrewery?
The craft brewery market has been segmented into 3 categories:
Brew Pub
Microbrewery
Others (regional and/or farm brewery)
YoLong have experience in designing, fabricating, and installing brewery equipment for each type. There are some brew pubs in Europe that have been producing craft beer batches for hundreds of years.
Brew Pub: A restaurant or pub that brews its own recipe beer on the premises. Usually, it means the beer is stored in kegs, not cans or bottles.
Microbrewery: A small scale brewery with limited production capacity. Even if the beer production of a microbrewery is fully automatic, the beer is still considered to be hand-crafted and artisanal.
When consumers hear the words craft beer, they think microbrewery. Even though the name was coined initially to signify a smaller size, it has actually come to reflect an alternative approach and new attitude to flexible brewing practices: Better taste, better customer service, and higher quality control.
Because the words "micro" and "craft" are used interchangeably, a small size brewery with limited production capacity – whether attached to an eating or drinking establishment or not – can call themselves a handmade craft product. Microbreweries that sell directly to the public often focus on this uniqueness and quality as a brand message.
This is why brew pubs and microbreweries continue to be an ever-increasing market; the select range, superior taste, and high profitability (up to 300%) – in addition to the point of difference having a microbrewery onsite – makes it stand out.
What Equipment Do I Need to Order for a Microbrewery or a Brew Pub?
The big difference between a microbrewery and a brew pub is the amount of beer they are designed to produce. For example, in the States you need a maximum production rate of six million barrels or under to qualify as a microbrew enterprise. Only 25% of ownership or control is permitted by a non-craft beer producer, and there's also the licensing requirements issued by the ATTTB.
A little known fact to all of you out there who enjoy a wheat-based beer every now and again, a craft beer recipe must be 100% barley-based with no other grains.
Once you have found the ideal location with the right plumbing, electricity supply, and foundation, then you can decide on equipment design, fabrication, and installation.
Mash System:
Mash tank
Electric steam generator
Lauter tun
Wort pump
Malt mill machine
Plat heat exchanger
These are the main tools and equipment pieces you will need for a craft beer batch of around 1000 liters of beer per production batch. That might seem like a lot of beer, but a busy pub can easily get through 50 to 60 kegs a week, depending on size and location.
Fermentation System:
Cooling pump
Fermentation tank
Equipment for adding yeast
Monitors
Cooling System:
This is a large tank + refrigeration machine where the beer is cooled and stored. This is a vital step to prevent the growth of bacteria.
Filter System:
Filter pumps help to rid your brew of any sediment.
Controls:
Refrigeration
PLC controls
Master electronics control board
Pumps
Safety measures in case there is a need to halt production in one section while maintaining control in another.
Cleaning and Sanitation:
Large-scale tank for sterilization solution
Alkali liquor tank
Washing pump
Bottling or Kegging Tap:
You will also need a pump for the final production of beer into kegs. Not many microbreweries start off with the need for a bottling and labeling station, but there are many requests that come in for them once a brewery expansion is planned.
YoLong microbrewery equipment is custom manufactured from the highest grade stainless steel. This allows the brewer to choose what capacity equipment they will need, based on sales projections.
Our engineering team can design your microbrewery equipment according to your interior layout and batch numbers. Brewers can also select the equipment according to their brewing process. For example, the type of control, the style of the tank, the heating method, and so on.
The microbrewery equipment design is actually very flexible. The floor plans and layout of every bar, pub, restaurant, and craft beer producer is different. If hand craft brewing is the soul of good beer, then the equipment would be the backbone!
YoLong can supply you with complete micro-brewing equipment setup, with the design you want and at the budget you can afford. We will also provide you with a complete brewing solution, plus a proposal for future expansions.
Micro-breweries can be divided into 2-vessel, 3-vessel, 4-vessel configurations, according to the brewhouse combination tank type.
What Size and Scale Do Microbreweries Come in?
YoLong manufacture brewery equipment to extremely wide size and scale options: from 1hl to 50hl per brew/batch.* 1hl = 100 liters
How Do Brewery Equipment Manufacturers Transport the Installations?
Here is everything you need to know about how brewery equipment is transported to the site where it is to be installed. There are six types of containers YoLong Industrial use for transportation: 20GP, 40GP, 40HC, 45HC, 20' OT, 40' OT and frame containers.
The inside dimensions of the containers are:
20GP Container – 5.898×2.352×2.385
40GP Container – 12.032×2.352×2.385
40HC Container – 12.032×2.352×2.69
45HC Container – 13.556×2.352×2.698
20 OT Container – 5.898×2.352×2.342 (Open Top Container: Can extend height)
40 OT Container – 12.034×2.352×2.330 (Open Top Container: Can extend height)
20FR Container – 5.650×2.030×2.073 (Can extend height and width)
40FR Container – 11.784×2.030×1.943 (Can extend height and width)
When we are shipping or transporting a 5hL brewhouse with 10hl cellar tanks, for example, we can pack the tanks standing in one or two general containers.
For 20bbl~30bbl (24hL~35hL) volume brewery equipment installations, the tanks are packed on a steel frame, and laid down in the container, the normal size container for this square footage would be 5~12 x 40HC.
For a wide diameter lauter tank, YoLong ships and transports this equipment in a FR (Flat Rack) container.
For a brewhouse platform, we choose 40' OT container, as most of the mash pipes, pumps, PHX, etc. are fixed and welded to the bottom of platform for easier installation.
For brewery equipment over 30bbl, multiple FR containers are used.
To give you a better idea of the dimensions used for transportation and installation, we usually pack two 100bbl fermenters into one 40/45' HC container. However, the maximum size fermentation vessels we have shipped so far is 440hL (by FR container).
For larger tanks, bulk shipping is the more competitive pricing option. If you have any more questions about shipping, packing, and transportation, please don't hesitate to give us a call.
Can YoLong Custom Design My Brewery?
Yes. We approach every brewery design differently, as each individual brewers' requirements – and the site on which it is to be constructed – are unique. Every brew master has their own way of operating and routine, and this is all taken into account during the design and fabrication process. Because we provide brewery equipment for countries all over the world, we design according to the terrain, climate, power source, and renewable energy requirements for each client. In addition to this, they also want brewery equipment that not only produces the beer according to the recipe, but enhances it.
The YoLong team help you to reach your ideal brewery setup specifically developed around your original brewing concept. If your site has limited space or height, we can also design your brewery equipment to work around this.
We like challenges and working with our clients to come up with the perfect brewery setup and volume output. You can leave your brewery design, concept, and required level of automation to YoLong. We will solve any problem your site or prospective expansion is presenting, and have your order ready for you on time and within budget.
Can YoLong Do Turnkey Projects?
What is the actual definition of turnkey?  It means that YoLong is involved in the provision of a completed product; a service or installation that is ready for immediate use. So, most definitely YES, we provide the best turnkey project service: from malt handling all the way to how you want the beer packaged. We also offer installation, training & commissioning structure advice.
How Can I Install My Brewery Equipment If I Choose to Do the Installation Myself?
For a small scale brewery (with volumes under 15hL) you can do the installation by yourself with the assistance of two workers.
A brewhouse with volumes under  5bbl, we design and fabricate as a skid brewhouse. We fabricate each skid brewhouse commission in our workshop, all you have to do when it arrives is to simply connect it up to a power. The pre-insulated glycol piping makes this equipment very easy to install.
7~15hL brewhouse: we provide detailed photographs and label every connection to make it easier to discern. We have found that this method has a 100% success rate compared to a standard instruction manual with diagrams. When you have these detailed instructions, installation is easy as possible; just connect the equipment according to the labels.
20hL and above: we don't suggest you attempt to DIY. Rather allow us to send one mechanical engineer and one electrical engineer to manage installation and commissioning. It is more time and cost efficient to do it this way.
What Certification Does YoLong Brewery Equipment Offer?
For pressure vessel certification, some working pressure requirements of cellar tanks is low in some countries, and in other countries it is very strict. All YoLong brewery equipment is manufactured to the highest standards, regardless of the country's individual requirements.  We provide:
PED certification for the European market
AS certification for the Australian and New Zealand markets.
We don't currently have ASME for the U.S. as the registration process in still ongoing. We estimate it will be awarded to us around the middle of 2020.
Electricity certification:
CE for the European market
UL for the U.S.
CUL for Canada. (As some Canadian provinces only accept CSA, we leave the extension of this certification application for our partners in Canada).
What Certification Do Steam Boilers Require?
Most countries have extremely strict certification requirements for steam boilers. The precision engineering and fabrication refinements needed to manufacture boilers to the highest safety and durability standards and specifications means boilers are one of the pricier pieces of equipment to add to a brewery. So, for small scale breweries, we suggest using electrical heat or direct fire for heat.
How Long Does it Take Until My Brewery Equipment Will Arrive? What Delivery Date Can I Expect?
Brewery Expansion
Non Certificated Tanks: 45~50 working days
Certificated Tanks
AS certificated tanks: 50~60 working days
PED certificated tanks: 60~70 working days
New Brewery Setup
Below 15hL brewery—50~60 working days
Above 15hL ~ 40hL brewery—60~80 working days
Please speak to a YoLong representative if you require an order to be fabricated before a specific deadline or date.