High-Quality, Best Price YoLong Products Available to Buy Soon: Milk Tanks for Dairy
Milk production stands alongside beer production as one of the most important food and beverage sectors in the world. On a dairy farm, bulk milk cooling tanks are used to cool and hold milk at the correct chilled temperature until it is picked up by the milk hauler. This is a critical time for the milk and requires large storage tanks of the highest quality.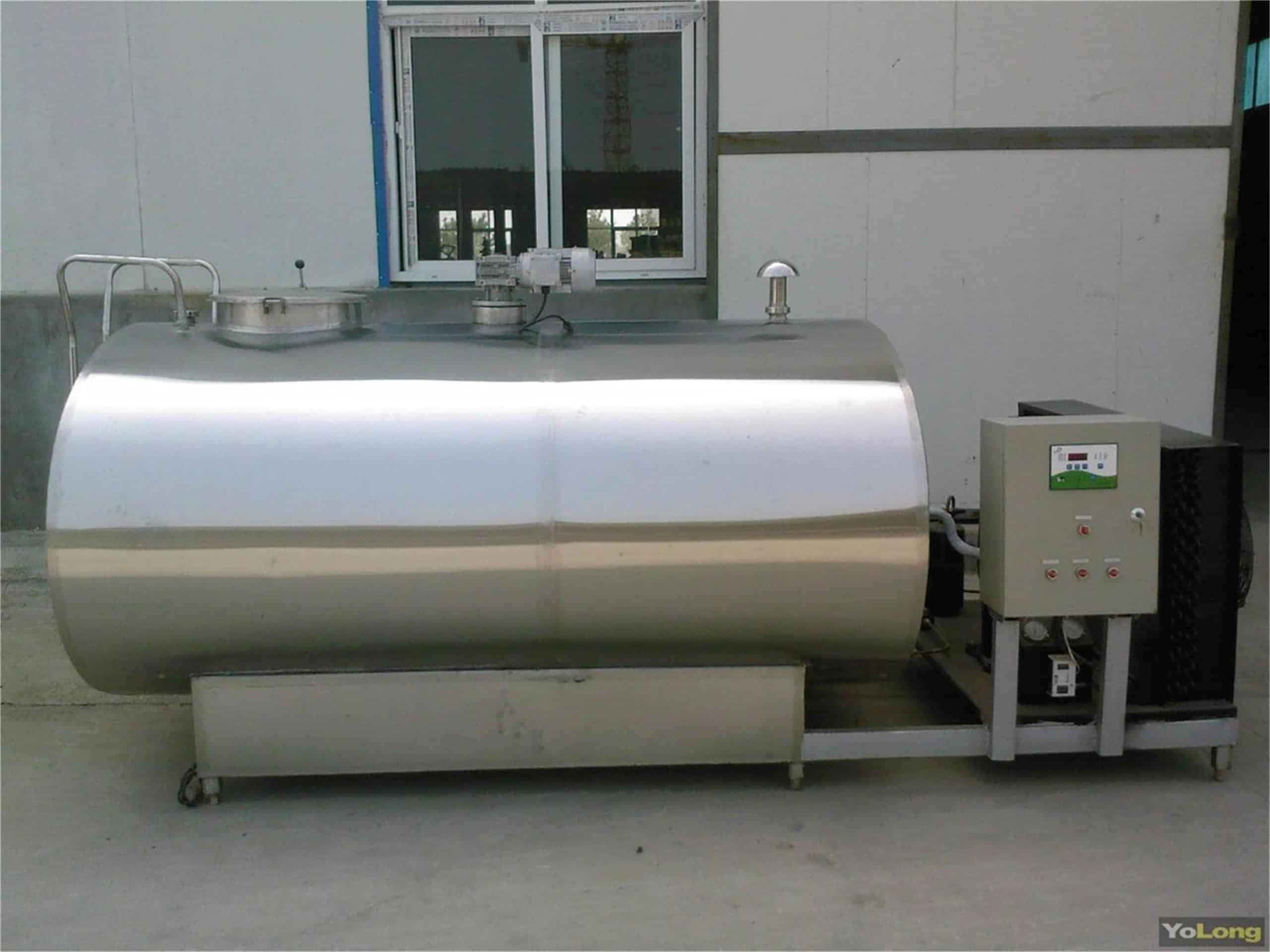 YoLong manufacture the best milk storage tanks and milk cooling tanks ready for immediate shipment anywhere in the world. It is what every dairy farm needs to maintain milk quality and operate within budget: YoLong milk tanks are priced to be an accessible acquisition for any dairy farm without compromising on internationally high standards of quality.
Bulk milk cooling tanks are a vital piece of the equipment on every dairy farm. YoLong milk tanks are made with stainless steel for everyday use in storing raw  milk on site in excellent condition. The CIP facilitates cleaning after every milk collection. Owning a milk cooling tank on your dairy is not only a good investment, but saves you having to rent one from the plant depot as well.
YoLong milk tanks for raw milk can be used for:
Milk storage
Milk cooling
Dairy mixing
Milk Storage: Temperature
Storing and cooling raw milk in bulk volumes is made easier with a closed tank (1000 to 10,000L). A YoLong milk bulk tank (milk cooler or outer tank) is manufactured from the highest quality stainless steel. The space or gap between the inner tank and outer tank is insulated with PU (polyurethane) foam.
YoLong milk tank walls use advanced buffer plate evaporators, Copeland compressors, and imported solenoid valve belts to maintain milk freshness. If there is a power failure – with an ambient temperature of 30°C/86°F outside – the tank contents will only gain one degree of temperature over a 24 hour period.
To speed up the cooling of the milk inside a tank, each one is equipped with a minimum of one agitator. By stirring the milk, it ensures the tank contents have an homogenous temperature.
Milk Storage: Tank Exterior Features
On the top of each closed tank is a manhole to enable interior inspection. Manholes are lidded and sealed with a watertight rubber ring. Inlets/outlets* are added to the design for pumping, filling, and air-vents. Milk tanks stand on 4/6/8 adjustable legs according to size. Adjustments can be made to the legs to ensure a built-in tilt so complete tank drainage after storage or cleaning can be made. The number of adjustable legs are of particular importance in earthquake-prone countries.  *diameters per country available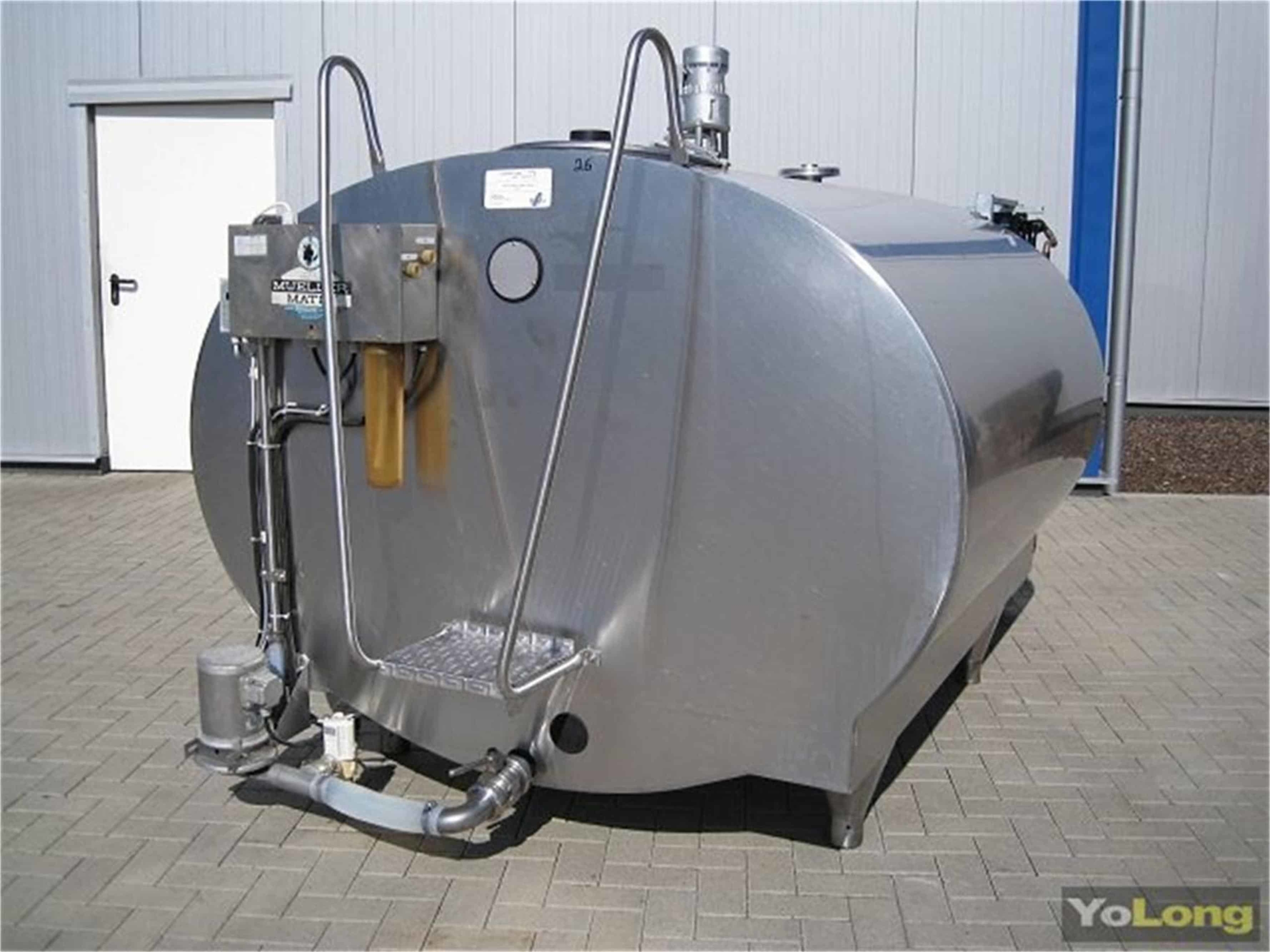 There is a threaded outlet/valve at the bottom of every milk cooling tank.  All tanks have an accurate temperature reading integrated into the milk tank device and automatic control panel. This automatically controls the thermostat of the refrigeration system. The compressor will start automatically when the temperature rises higher than the set (adjustable) level. It shuts down again automatically when the set chilled temperature (adjustable) has been reached.
Milk Storage: Cleaning
Every milk tank includes an automatic cleaning CIP system. For use of hot and cold water, acid/alkaline cleaning fluids, pressure rotary cleaning CIP nozzle, and stirring/agitator device. The YoLong CIP system ensures an hygienic interior environment after every milk tank emptying.
Bulk Milk Storage and Transportation Manufacturing Criteria
Criteria includes:
Insulation
Milk agitation
Required cooling power
Milk quantity measurement
Calibration
ISO standard: 5708/1983
European standard: EN 13732/2009
Northern American sanitation standard: 3A13-11/2012
Milk Bulk Tank Transportation
YoLong milk tanks are easy and convenient to place on a milk transportation tanker. We also manufacture milk cans for storage of raw milk/cream/whey on the premises or after pasteurization. Every milk can, tank, and storage vessel undergoes rigorous stress testing prior to shipping and delivery. You can be assured of the highest product quality and aftersales customer service.
Why Choose YoLong for Your Milk Storage Equipment?
No one understands the need for high quality, cutting-edge stainless steel storage cans and tanks for milk than YoLong does. We have consulted with dairy farmers across the world so we could design and manufacture the best equipment for dairies at the best price. We consider it a great service to offer dairy tanks and cans at affordable prices, especially as the shift to organic, lactose-free, and fat-reduced dairy products increases.
If you are searching for milk tanks for storing, chilling, and transporting milk products for your dairy farm, please contact the team at YoLong today.